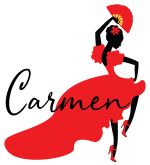 13th Anniversary Season of Operatic Fundraising Performances at 51 Walden
Bizet's Carmen - 3 performances - June 7, 8, and 9, 2019
Tickets and Information
Performances are June 7 and 8 at 8 PM, and June 9 at 2 PM.
Tickets can be ordered by calling 978-369-7911 or online here:

About the Opera and the Production - Explore Before You Attend!
The press release announces Opera51's production of Carmen.
Cast Orchestra and Production Team members.
The full plot appears in this synopsis from the Metropolitan Opera.
Company accompanist Dr. Alexander Lane has written a fascinating commentary about the transition from Prosper Mérimée's 1845 novella Carmen to Bizet's opera. From Carmen on the Page to Carmen on the Stage.
Read the full English text of the opera in this French/English libretto.
Listen to the main melodies in your mind with this list of key musical themes from Carmen as included in A Dictionary of Opera and Song Themes compiled by Barlow & Morgenstern.
This Wikipedia article on Carmen is comprehensive and wide ranging.
A Fundraiser for 51 Walden
The performance is a benefit fundraiser to support operation of the 51 Walden facility. Proceeds contribute valuable funds to the maintenance and operation of 51 Walden, a community resource supporting hundreds of local residents each week throughout the year.
Donations to support 51 Walden can be made directly here, or by sending a check payable to "51 Walden" to P O Box 251, Concord, MA 01742. 51 Walden is a 501(c)3 organization.